March specials are here to help you get ready for your closeup with Mr. Demille! Do you have photos coming up and want to look your best? Want to help that new grad or bride-to-be get ready for their big day? We have a menu of items for you to choose from including the very popular Hydrafacial treatments. This month, get a FREE Lip or Eye Perk with the purchase of a Deluxe or Platinum Hydrafacial Package and take a look at our Photoshoot Package to help you get ready for those closeups.
Don't miss out on the last month of the Hydro Jelly Facial, a Free Peel or Mask with a Dermaplane Treatment or Laser Nail Fungus Treatment.
Ongoing is our "New To Botox" Special where new patients who purchase 40 units will get 10 units FREE ($120 value). Already a Botox patient at Pride? Don't feel left out and receive a $50 Botox Credit for any referred patient that indulges in the "New To Botox" speical.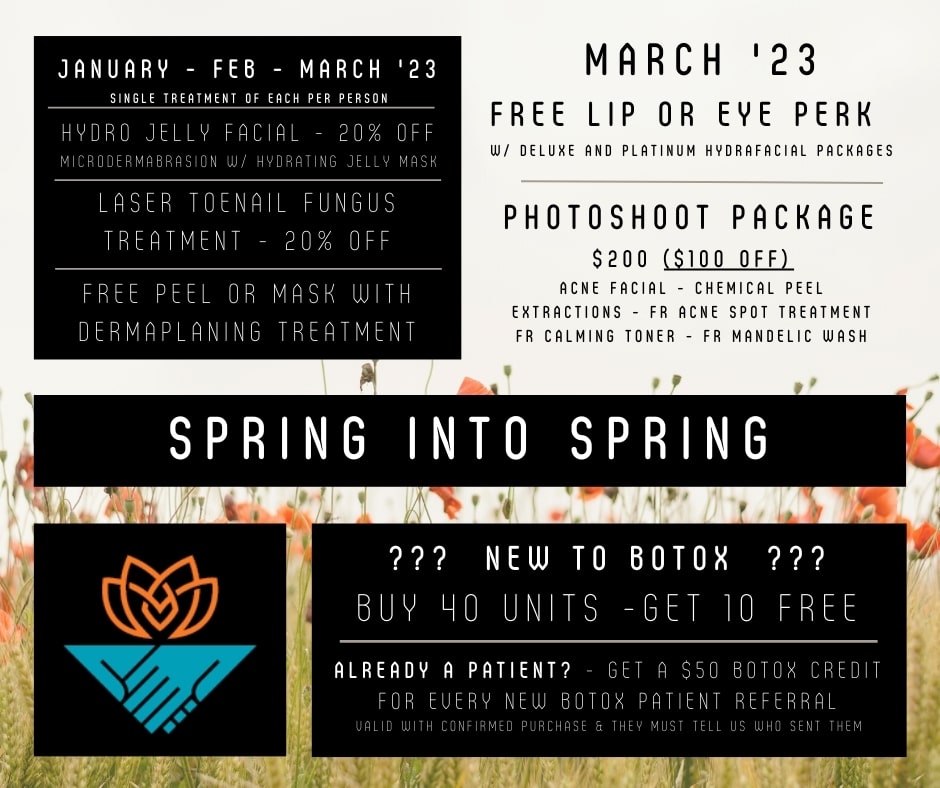 Call us at 512-379-7272 to book an appointment today!
Running Specials for January, February and March of 2023
Hydro Jelly Facial – Microdermabrasion w/ Hydrating Jelly Mask – 20% OFF
Laser Toenail Fungus Treatment – 20% OFF – Get your toes sandal ready NOW.
FREE Chemical Peel or Mask with Dermaplane Treatment
Limited Specials in March 2023 Only
Free Lip or Eye Perk with Deluxe and Platinum Hydrafacial Packages
PhotoShoot Package – $100 Off – Acne Facial, Chemical Peel & Extractions

Face Reality Starter Bundle – Acne Spot Treatment, Calming Toner & Mandelic Wash
??New to Botox?? – New Botox Patient Special and Referral Bonus!!
New Pride Botox Patient – Buy 40 Units – Get 10 FREE
Est. Pride Botox Patient – Get a $50 Botox Bonus Credit For Every New Botox Patient Referral

Valid with confirmed purchase & they must tell us who sent them.